New Centre for English Language Learning (CELL) launched at the AIFC Court and IAC
AIFC Court
27 June 2022 00:00:00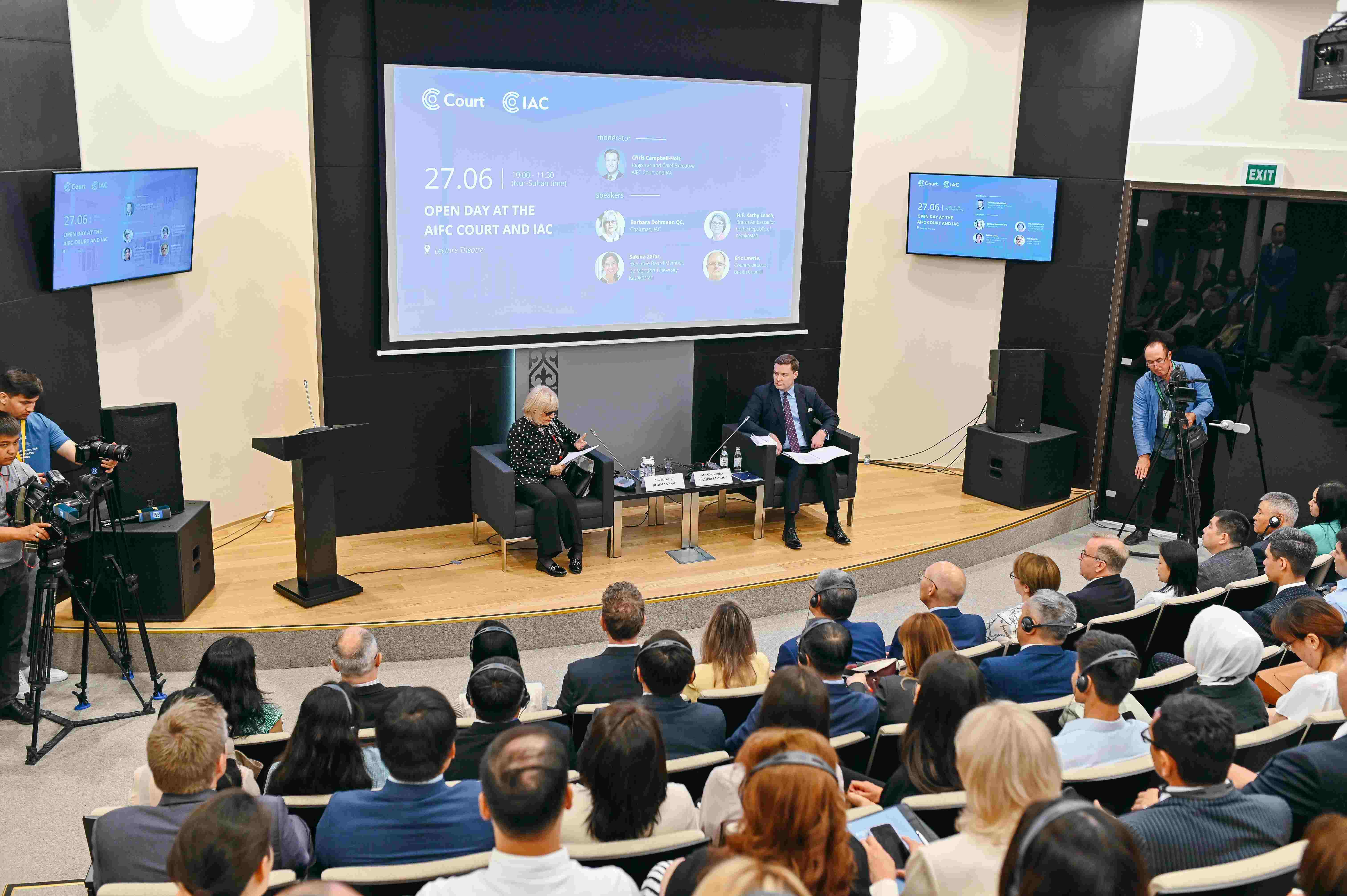 A new Centre for English Language Learning (CELL) was launched at the AIFC Court and International Arbitration Centre (IAC) today. This Centre of De Montfort University Kazakhstan signifies an exciting new partnership between DMUK and the AIFC Court and IAC. The Centre will provide high quality English language support for the legal and financial sector, primarily focused on business English and ESP courses (English for law and English for finance) as well as IELTS preparation courses. The Centre will have its own dedicated English language trainer from the UK, and continuing the British theme, also partners with the British Council to provide English language assessment services, including IELTS and Aptis.
This initiative and partnership demonstrate the important contribution of UK education institutions in supporting the AIFC Court and IAC to ensure the highest quality international standards in law, business, and finance.
The AIFC Court and IAC commenced operations on 1 January 2018 and have successfully resolved 1099 commercial disputes involving businesses and investors from 20 countries including from Russia and the wider Eurasia region, India, China, the UK, and the EU. Within the first six months of 2022 the AIFC Court and IAC resolved 152 cases. In this time the AIFC Court resolved more cases than the total number of cases it had resolved in 2021. The AIFC Court and IAC continue to manage considerable case load.
The disputes involved a wide range of commercial and investment related matters, including finance, construction, sales and services contracts, and employment. All Court judgments and arbitration awards have been enforced within the Republic of Kazakhstan to 100% satisfaction of the parties using the AIFC Court's special step by step enforcement procedure that operates directly between the AIFC Court and the enforcement authorities without involvement of the national courts.
International recognition has been achieved by the agreement of the AIFC Court and IAC to cooperation agreements with more than 40 international dispute resolution partners. The AIFC Court and IAC have been included in the dispute resolution clauses of more than 6000 business contracts by Tengizchevroil, Chevron, NCOC, Shell, and many other corporations, with contract values in excess of US $2 billion. They have become the most trusted international standard institutions for commercial dispute resolution in Eurasia.
Mr. Christopher Campbell-Holt, the Registrar and Chief Executive of the AIFC Court and IAC, commented:
"We are delighted to partner with DMUK, the first British university in Kazakhstan, and the British Council, to provide world class English language training and testing at CELL at the AIFC Court and IAC premises in Nur-Sultan, Kazakhstan. Parties in disputes at the AIFC Court and IAC can speak any language, but it is anticipated that English language will increasingly be applied as international dispute resolution case numbers increase. The new English Language Learning Centre with DMUK at the AIFC Court and IAC is expected to become the leader in English language training in Eurasia and we expect the centre to significantly contribute to the development of English language skills in dispute resolution and business practices at the AIFC and generally in Kazakhstan."
Mr. Simon Etherton, Director, Centre for English Language Learning, De Montfort University Kazakhstan, stated:
"De Montfort University Kazakhstan is excited to establish this new Centre for English Language Learning in the heart of the AIFC Court and IAC in Nur-Sultan, and enthusiastic about all the possibilities this initiative offers in supporting and promoting English language in business, finance, and law. We are also very pleased to be continuing our valued partnership with the British Council, ensuring highest quality English language assessment for all our courses and clients taught at the Centre."
Eric Lawrie, Country Director, British Council Kazakhstan, commented:
"The British Council looks forward to providing all the English assessment services for the courses and clients at the CELL and further strengthening our partnership for quality UK education with DMU Kazakhstan and the AIFC Court and IAC."
Reference:
The Astana International Financial Centre (AIFC) is an independent jurisdiction that started operations in 2018. In accordance with the Development Strategy until 2025, the key focus of the AIFC is to consolidate as a universal platform connecting the countries of the EAEU, Central Asia and the Caucasus. www.aifc.kz
The AIFC Court is an independent legal entity. It has its own procedural rules modelled on English common law procedures and leading international practice. The AIFC Court is separate and independent from the courts of the Republic of Kazakhstan. It consists of two tiers: a Court of First Instance, which includes a specialist division known as the Small Claims Court; and a Court of Appeal. It has exclusive jurisdiction over disputes arising out of the activities and operations of the AIFC and jurisdiction in the case of other disputes in which all parties agree in writing to give the AIFC Court jurisdiction. It does not have jurisdiction in relation to disputes that are of a criminal or administrative nature. It applies the most up to date and efficient case management practices. https://court.aifc.kz/
The International Arbitration Centre (IAC) is an independent legal entity. It has its own procedural rules modelled on best international practice. It has its own panel of leading international arbitrators and mediators having many years of arbitration and mediation experience in commercial law, including oil and gas, trade, construction, energy, financial services, banking, Islamic finance, insurance, and intellectual property. IAC arbitration awards are recognised and enforceable in Kazakhstan and internationally. https://iac.aifc.kz/
De Montfort University Kazakhstan (DMU) is a partnership between EdPeritus UK and De Montfort University (Leicester, UK). All academic courses at DMU Kazakhstan have been developed by De Montfort University who will assure the quality and rigour of these programmes, the quality of teaching and the parity of the student experience. Upon successful completion of a DMU Kazakhstan programme graduates will receive their degree from De Montfort University. https://dmuk.edu.kz/